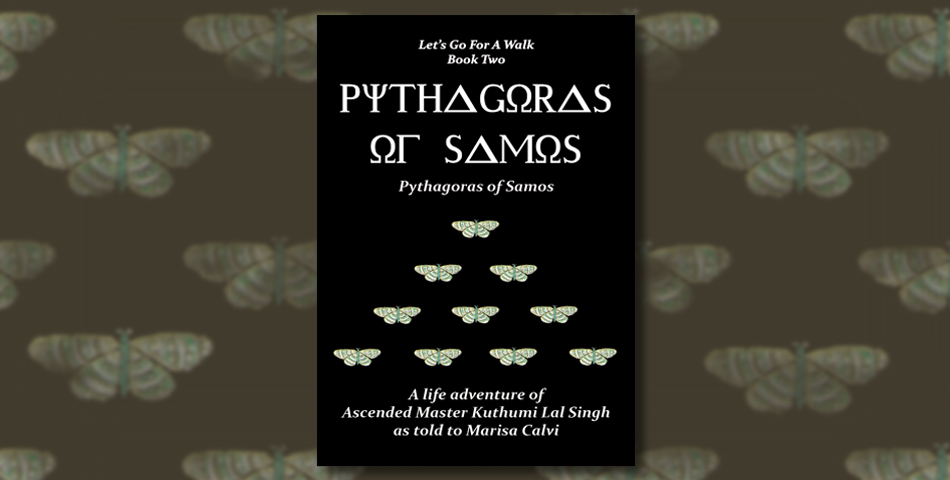 Pythagoras of Samos

Let's Go For A Walk; Book Two
A Life Adventure of
 Ascended Master Kuthumi Lal Singh 
as told to Marisa Calvi
(382 pages, B5 paperback)
---
The story of Ascended Master Kuthumi's human adventures continues on with the life of Pythagoras of Samos – history's most famous mathematician and one of Ancient Greece's most notable philosophers.
Set in an amazing time of change for humanity, Pythagoras takes us on a journey through the mystery schools of the ancient world — from the mystics of Egypt and Phoenicia through to the Zoroastrian magi of Babylonia, the oracles of Greece and even the early Buddhist monks. Along the way he shares his personal experiences and reflects on just what he was shown. This culminates in the establishment of his renowned school in Crotona.
Once again Kuthumi invites us into the very human aspects of an extraordinary life. Pythagoras' life is not only remarkable for what he achieved but for what he allowed himself to experience. The stories he shares are much more than recollections though – often revealing long lost secrets and wisdoms that are just now resurfacing!
To order please go to the following links at Lulu.com
---
Paperback
AU$25
---
eBook (PDF)
AU$20
---
Reviews
"A wonderful journey that was so real in many ways that it's hard to express them now – more than just a story but a hologram for our own."
Adrian, UK
"Thank you for sharing with us such a great adventure and to paint the mentalities and way of living of another time as well as the life of a great searcher of truth and knowledge. And it shows that the quest for higher wisdom was the same back then as it is today and will be in the future."
Simona, USA
"Thank you to Pythagoras for sharing his story. It has helped unearth some valuable truths from within and isn't that just amazing that a lifetime that long ago can still reach out and teach and change consciousness. It astounds me."
Sharon, Australia