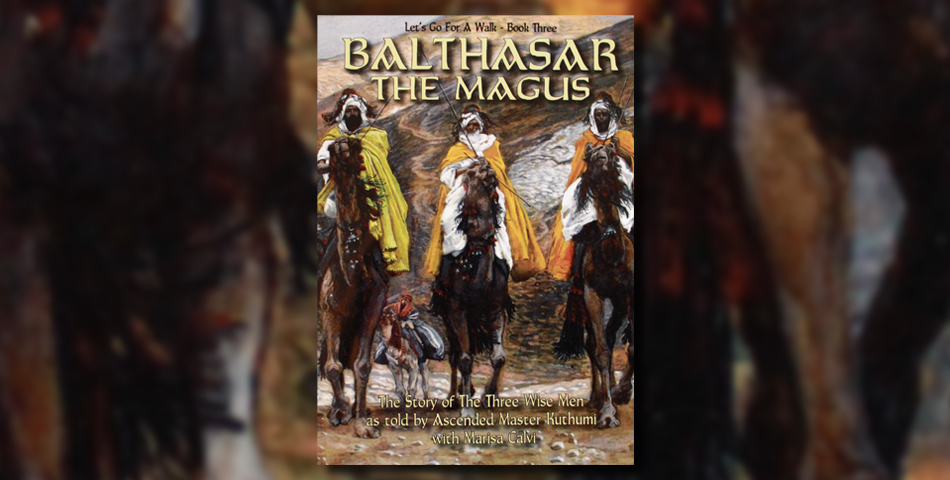 Balthasar The Magus

Let's Go For A Walk; Book Three
A Life Adventure of
 Ascended Master Kuthumi Lal Singh 
as told to Marisa Calvi
(364 pages, B5 paperback)
---
Kuthumi's human adventures continue on with his life as Balthasar the Magus – a high priest of the Zoroastrians at the time of Jesus the Nazarene.
The story of Balthasar takes us deep into the heart of the ancient priesthood and their passion to birth paradise on Earth for humanity. Dreams, stargazing and eternal wisdom are brought together to begin a great excitement that this awakening would be soon upon them.
As Balthasar shares with us the opening of a new era of consciousness, he also reveals the joy of living with his soul connection and the gifts it gave to him. This included being chosen as a leader along with Gaspar and Melchior of the grand caravan that made way to welcome the birth of one of the greatest teachers ever known.
To order please go to the following links at Lulu.com
---
Paperback
AU$25
---
eBook (PDF)
AU$20

---
Reviews
"The Balthasar book awoke layers of history, compassion, and memories for me, plus personal experiences in this lifetime.
Pure inspiration for all who allow themselves to read, breathe, and receive."
Norma Delaney, USA
"Thank you so much for another wonderful Kuthumi story. Each sentence shines with simplicity and grace and clarity and awareness."
Sharon , USA
"I have been so profoundly moved by this book "Balthasar' it is as though every cell within my body remembers. The sweet joy and passion that is ignited within me, the knowing that what was begun so long ago is come into fruition. There is so much love and joy for myself, for humanity."
Libby, Australia