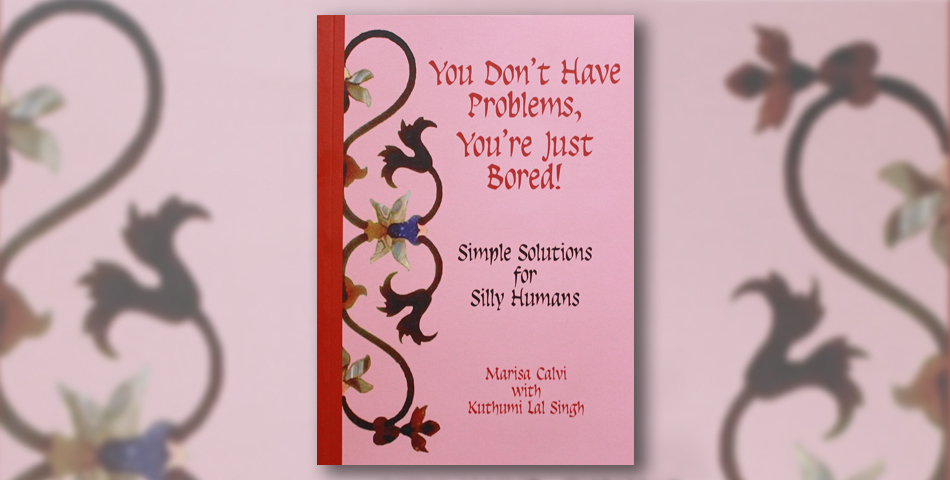 You Don't Have Problems, You're Just Bored!
by Marisa Calvi
 with Kuthumi Lal Singh
(70 pages, A5 paperback)
---
A short and sweet spiritual book, that reflects on why we create problems and drama in our lives. It then offers 25 simple and easy solutions or meditations that anyone can start to use straight away. These solutions offer the reader the opportunity to laugh at themselves as well as connect with their divinity. The paperback edition is beautifully printed in full colour throughout.
"These tender compassionate words are invitations to walk away from an old lifestyle. This book is a doorway into New Consciousness. Inhale these words to gently birth the New You. A true must for all on their Path."
Norma Delaney, 
Channeler of Kuan Yin and Ohamah
"Better than The Da Vinci Code. I love it!"
Kuthumi Lal Singh
, Asscended Master and Celestial Comedian
---
Paperback
AU$25 including postage.
Please allow 3-4 weeks for delivery.
For multiple copies please contact Marisa
---
eBook (PDF)
AU$15
This is a PDF document that I will email to you upon payment notification.
You will need Adobe Acrobat Reader to view the E-book. This is a free program available here.
Please note – There is no automated response to orders.
Please allow 48hours for your download to be sent during this time.
---
Also available in the following translations:
(ordered and sent via Lulu.com)
---
German/Deutsch 
Paperback – US$12

German/Deutsch eBook – US$10


---
Spanish/Espanol
 Paperback – US$12

Spanish/Espanol eBook – US$10

---
Hungarian/Magyar
 Paperback – US$12

Hungarian/Magyar
 eBook – US$10