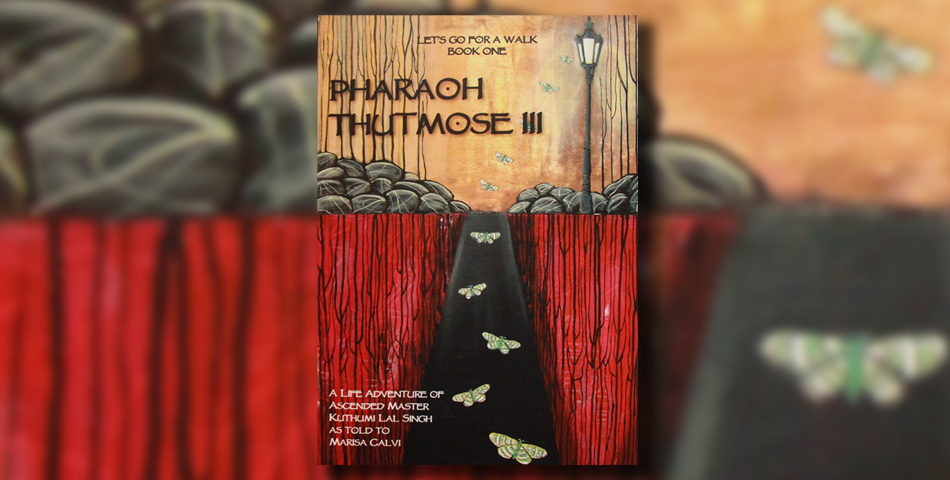 Pharaoh Thutmose III

Let's Go For A Walk; Book One
A Life Adventure of
 Ascended Master Kuthumi Lal Singh
as told to Marisa Calvi
(448 pages, B5 paperback)
---
"Let me extend to you an invitation. It is not the most normal of invitations, as it doesn't require you to attend a party or function. It is an invitation to travel with me across time, across civilizations, across religions and across philosophies. I invite you to turn off your simple human limitations of time and place. I invite you to open your senses. With this opening I will share with you depths of sensation, perception and experience you haven't even imagined…"
This is how Ascended Master Kuthumi Lal Singh invites you to join him in experiencing his time within the human realm. In this first book join Kuthumi to walk through his time as Pharaoh Thutmose III, one of the greatest rulers of ancient Egypt.
To order please go to the following links at Lulu.com
---
Paperback
AU$25

Signed paperback copies can be ordered by contacting me. 
Please note that these are posted from Australia and postage costs will reflect this.
---
eBook (PDF)
AU$20
---
Reviews
"Read your book in two days. Could not put it down. So beautifully written. I laughed and cried at different sections. Most of all I enjoyed being immersed in the most wonderful sensation of love and peace whenever I was reading it.

I feel like his gentleness, humour and serenity has been with me ever since. Thank you for following your heart so faithfully. You have gifted us all. Looking forward to the next instalment….no pressure!!!!!"
Rosemary, Australia
"Marisa, your creation is beyond anything I have ever experienced while reading a book. The journey back in time to Egypt felt so personal, like walking alongside Thutmose/Kuthumi, being guided so lovingly every step of the way.

And, Marisa with your energies ever-present…..stringing the experiences together….word-by-word….in a most beautiful dance, allowing me to connect in so many intimate ways with each of the beloved, yet oh so real people in this story.

I truly enjoyed all the details and all the personal sharing of what the daily life in the palace was really like. I also loved reading about the temples, especially the ones where the divine feminine energies flourished."
Margaret, USA
"It makes one dive into the magical history of Egypt at the times of the Pharaohs, a period which is so precious to me.

The lively characters, the vivid and smart descriptions of people and objects, the astute observations and the sparkling conversations draws such a lively picture of the great Thutmose III's life, an adventure that one can only follow with enthusiasm and passion.

I was so immersed into your story and so deeply fascinated that I would have liked to read the entire book immediately."
Simona, Europe